About Me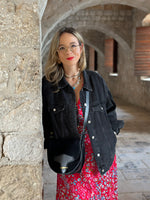 MEET RUX!
Born and raised in Romania, but living in London since 2014, I have been practicing astrology for over eleven years. People ask me how I discovered astrology and the truth is, astrology found me. In my first job out of university, I met an astrologer who analysed my natal chart for the very first time, and my mind was blown! I started studying astrology with her as my first mentor for over two years, as well as immersed myself in self-study, followed by two years of studies with the Faculty of Astrological Studies in the UK.
Helping others reconnect with their soul's intentions, find their own truth, answers and purpose is my passion.
I practice Western Tropical astrology with a focus on the psychological and evolutionary aspects of the natal chart, as well as working with the timeline of one's life via a mix of modern and traditional forecasting techniques.
Born on 11 February, Pitesti, Romania, I also hold a bachelor's degree in Public Relations, Advertising & Applied Communications from the University of Bucharest and have worked in PR, social media and digital marketing before dedicating myself to astrology full-time.
You can now also listen to my content in audio only format on 'Written in the Stars by Rux: The Podcast': https://anchor.fm/writteninthestarsbyrux​ - available on Spotify, Apple and Google Podcasts.