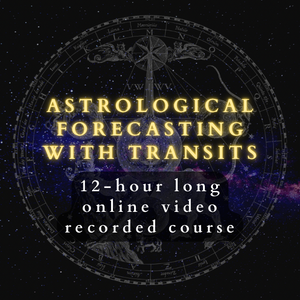 Now available to purchase as a recording, no longer live.
The course was run live online in May 2022.
In this 5-part online video course you will learn all the theoretical tools you need to build an astrological forecast for you or for others from scratch by using transits and solar returns.

What is covered in this approx. 12-hour long course:

What are transits, what can they tell us and how to use them in forecasting
Cycles and aspects of transiting planets
The meaning of transits aspecting natal planets and angles
The meaning of transits through the natal houses
Transits of transpersonal planets
Transits of social planets and Chiron
Transits of personal planets
Transits of the nodal axis
How to interpret the transits of slow vs. fast moving planets
Lunations and eclipses
Retrograde motion
Solar returns
How to build a forecast for the year ahead. Prioritization of transits
Intro to professional software for astrologers and how to use this for transits work
Ethical considerations in forecasting
The course also includes examples illustrating the material covered.
1. Who is this course for for?
This course is for you if you are an astrology student with a foundational understanding of natal chart interpretation, a solid grasp on the symbolism and meaning of planets, signs, houses, aspects in astrology, basic knowledge on how to use an ephemeris. This is not a course for beginners.

If you have completed my 'Natal Chart Interpretation Masterclass' or a similar course in the past, this course is for you.
2. What are the next steps after I purchase the course?
Once you make the payment online, you will receive an automated confirmation email with your order number - please also check your Spam/ Junk folders as sometimes emails can land there. You will then later in no more than 24 hours receive an email from me with the link to download the 5 parts of the course to your computer.
 No refunds will be made after you have purchased the course.
If you have any other questions, you can use the contact form on the website to send them through.
All prices on the site are in £GBP (UK pounds) but you can make a purchase from anywhere in the world using your local card/ currency. When making the payment, the website will convert the payment from your local currency to £GBP automatically for you, so no additional action needs to be taken on your end.