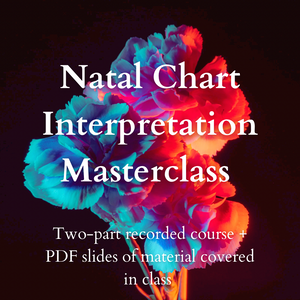 NOW AVAILABLE TO PURCHASE AS A RECORDING, NO LONGER LIVE

In this 2-part online class (over 6 hours of recorded material, the class took place live on 29 October and 5 November 2022) we covered the step-by-step approach to natal chart interpretation, from overall assessment of the chart, how to take notes and what to look for (elemental balance, planetary influence, aspects and aspect patterns, rulership, do-s and dont's and more), how to find themes and patterns in the chart, how to group them together in major life stories and areas of experience, examples, tips for consulting astrologers. You will take away a reliable framework and structure to apply to your interpretations moving forward.
1. Who is this masterclass for?
This is not a beginners class, its level is for intermediate students of astrology. This course is for you if you already have a basic level of knowledge of planets, signs, houses and are looking for a more in-depth understanding of how to piece it all together when doing natal chart interpretation for you or others.
2. What are the next steps after I purchase the masterclass?
Once you make the payment online, you will receive an automated confirmation email with your order number. You will then later in no more than 24 hours receive an email from me with two links to download the two parts of the online masterclass. Please also check your Junk/ Spam folders as sometimes emails land there!
​All prices on the site are in £GBP (UK pounds) but you can make a purchase from anywhere in the world using your local card/ currency. When making the payment, the website will convert the payment from your local currency to £GBP automatically for you, so no additional action needs to be taken on your end.